I hear he was here last time in the mid-90ies, but that happened ages ago and very few people know it ever happened, so when Richard Stallman came to Bucharest it was quite an event for the local FOSS community, many traveled long distance to see him talking. For me it was obvious to go there, I never attended one of his talks and it was a perfect opportunity to take some photos.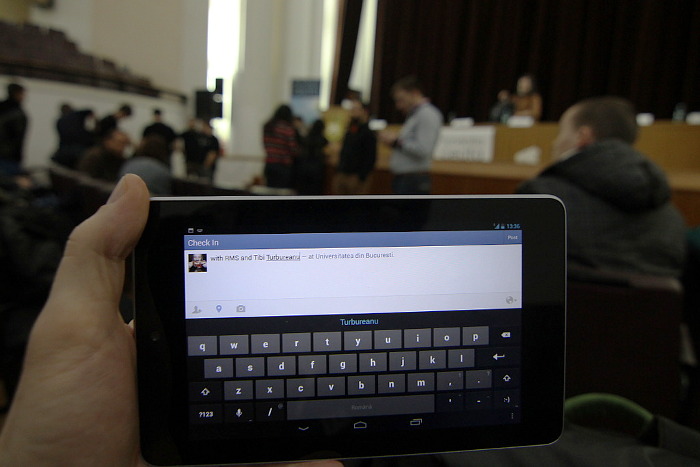 I have to acknowledge my reaction wit the talk was "not impressed", indeed he is a good and experienced speaker, but maybe 2/3 of his speech I could have delivered myself (albeit in a not very good English, I can talk hours about the benefits of Free Software, its history, problems with SaaS) and the rest would not, because I find myself in disagreement with (he has the known "GNU/Everything" antics, he thinks Free Software activists are more important than developers and such). Really, there is nothing new, the biggest part of the audience already knew it any many could talk about it, the discourse is classic (and old, including the ancient Bush joke) with few minor updates (like the Obama mention). You see one, all are the same, to the Saint Ignucius part to the final auction.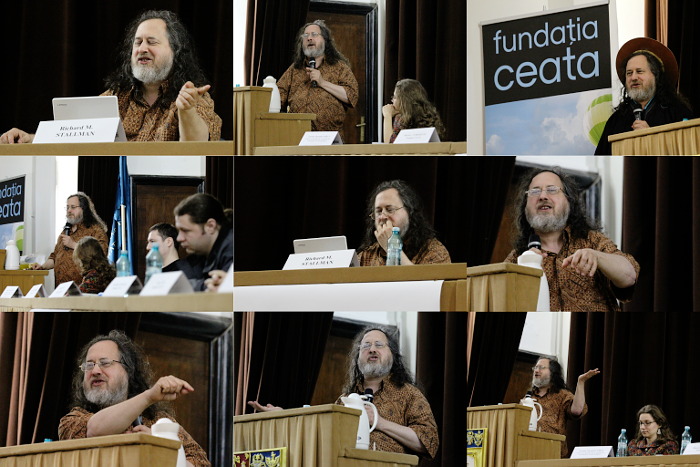 From a photographer point of view, I have more reasons to be unhappy. Is not that I had to take care not to shoot them while picking his teeth and nose or yawning in front of the full audience, is he not being consistent with himself. RMS asked the audience a few things, for example not to geotag his photos (this one is stupid, since the place of the event is well known) or publish the videos in open formats (I understand that), but the worst is he asked people not to post photos of him on Facebook, because it is a "massive surveillance machine". While I agree in many ways with his views on Facebook, is still stupid and useless: say I post the pictures on Google Plus (he wasn't against that) and under a Free license (because I believe in that), then anyone can take my photos and put them on Facebook, with face tags, geolocation and everything. Forbidding that would make them non-free. Second, when talking about proprietary software, RMS told us about a dilemma: you have two evil options, break the license or not share with your friends, and recommended the lesser evil, sharing. Sharing to Facebook is also the lesser evil, since it won't let your friends down. Third, if people go to a platform like Facebook for news, not offering them the news will leave them uninformed. Is better to have people informed, even if from the wrong channel. Last, from a legal point of view, it was a public person at a public event. That is news, you can't restrict it.