The title may make you think so, but this is not one of those ridiculous articles where the author claims GIMP is better than Photoshop even on technical grounds. No, let me make it straight from the intro: from a technical point of view there are areas where Photoshop is much better than GIMP (speed, color depth, CMYK, etc.), there are areas where the two are comparable, as there are areas where they are on par and areas where GIMP does better. And of course from a licensing point of view, GIMP being Free software, released under GPL is vastly superior (and thus my only recommendation) and also from the two it is the only running on my Linux machine.
There is also the urban myth of GIMP being an usability nightmare: it is provable false and originating from the "is not a 1:1 copy of Photoshop, so it sucks" (along with memories of pre-2.x versions, which had an ugly interface). I will try to bust this myth.
Time for a disclaimer of my bias: for over 10 years I used exclusively GIMP, I wrote about it and held workshops and presentation, while my Photoshop experience was limited, having played with it long ago, before even the "CS" line was introduced. Still, for various reasons (I may write about this at a later time) I am taking a Photoshop course and find the experience painful: even if I can find my way there, some operations are more cumbersome and less intuitive.
Below I will look at few basic tools in both apps, the tools which one expect to be taught in the very first classes when learning one of those apps. I will highlight the areas where GIMP does better. For the comparison, I ran Photoshop CS5.1 and GIMP 2.8.4 on a Windows 7 machine (my platform of choice is Linux with a classic MATE desktop, but running a recent Photoshop under Wine is neither trivial, nor trouble free).
Overview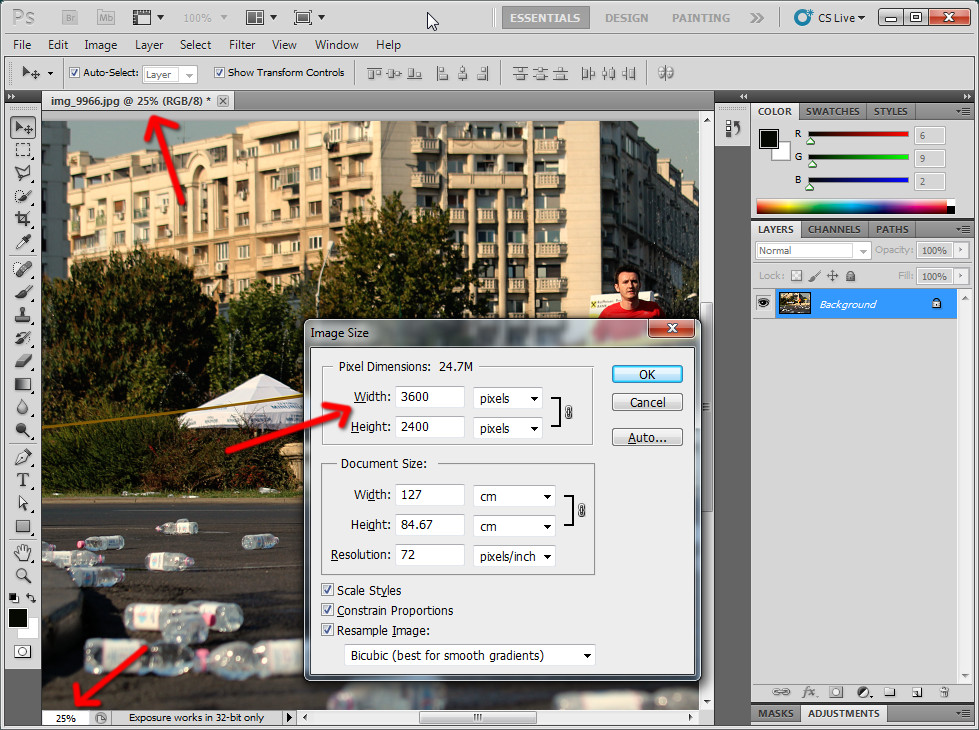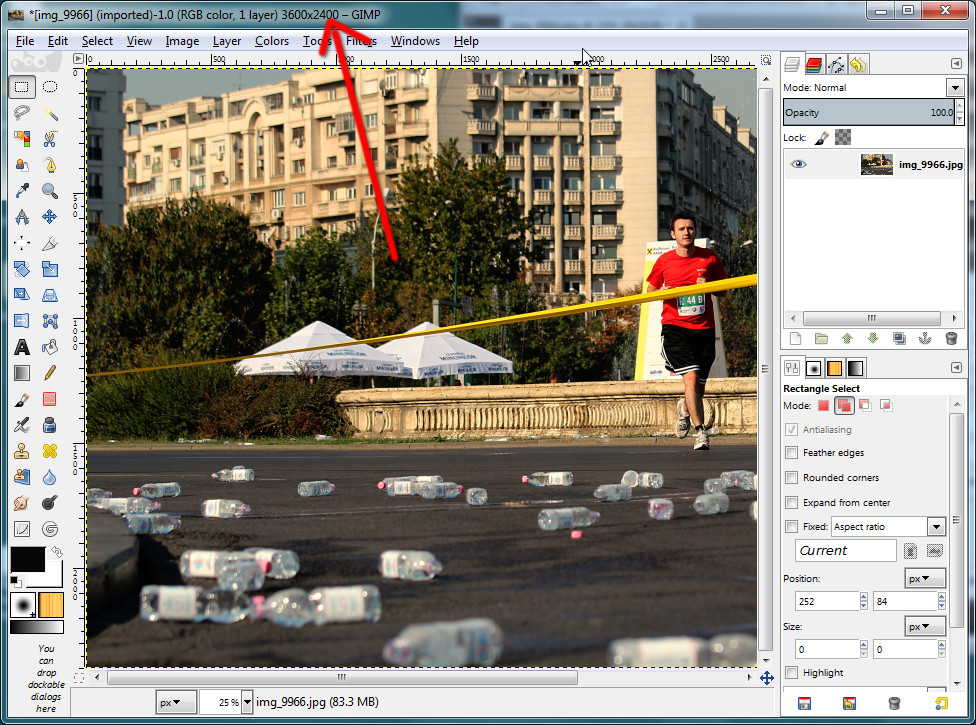 It may be trivial, but for me having the image size in the GIMP window title is useful, while the zoom level for Photoshop is not (as while editing you change that a lot) and redundant (is present in the status bar too). You have to go deep in the menus and dialogs to learn the image size in Photoshop. Image size is important info, is a parameter you optimize for.
Cursors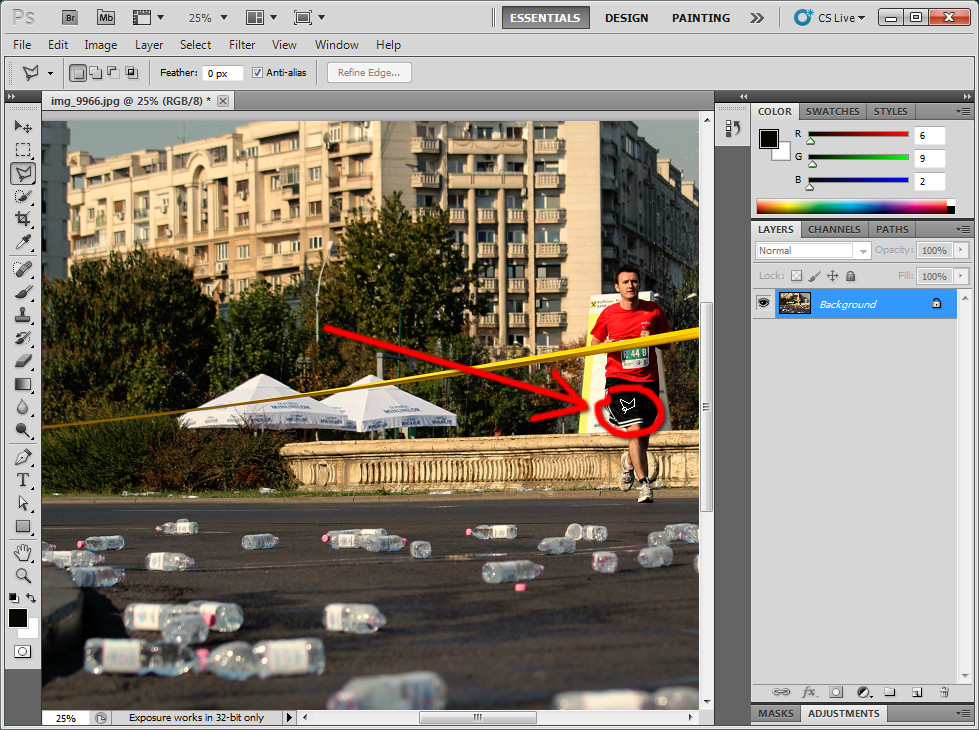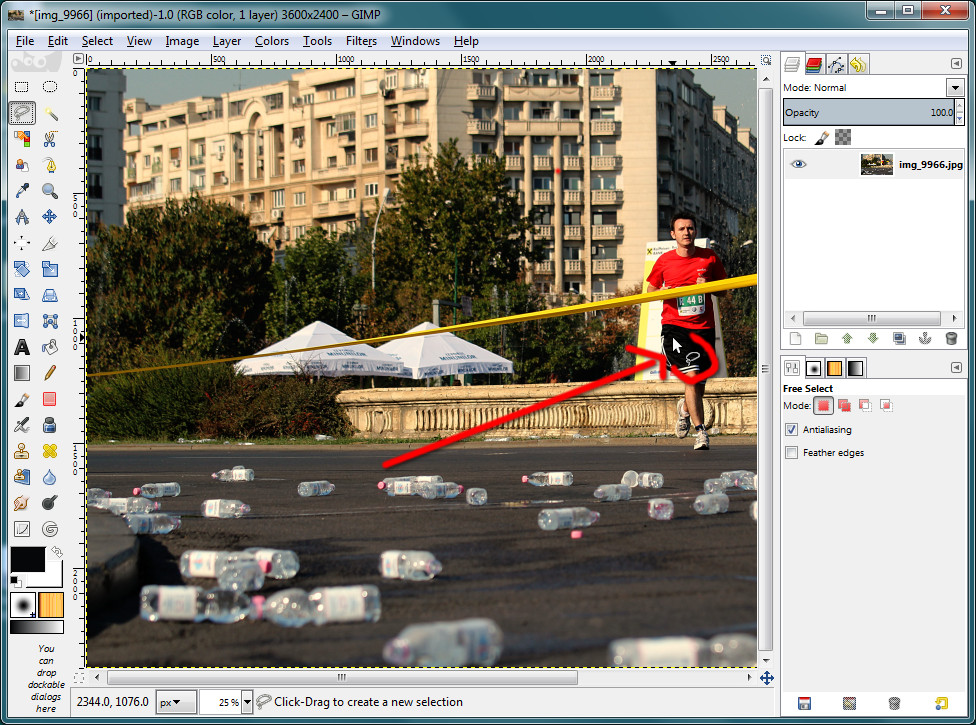 Bad usability is when the user have to look at a widget and think about how to use it, instead of just using it intuitively. This is the case with mouse cursors in Photoshop. Case in point: this polygonal lasso, where I always have troubles finding the active spot (no, is not top-left, as it is usually for mouse cursors).
Rectangular selections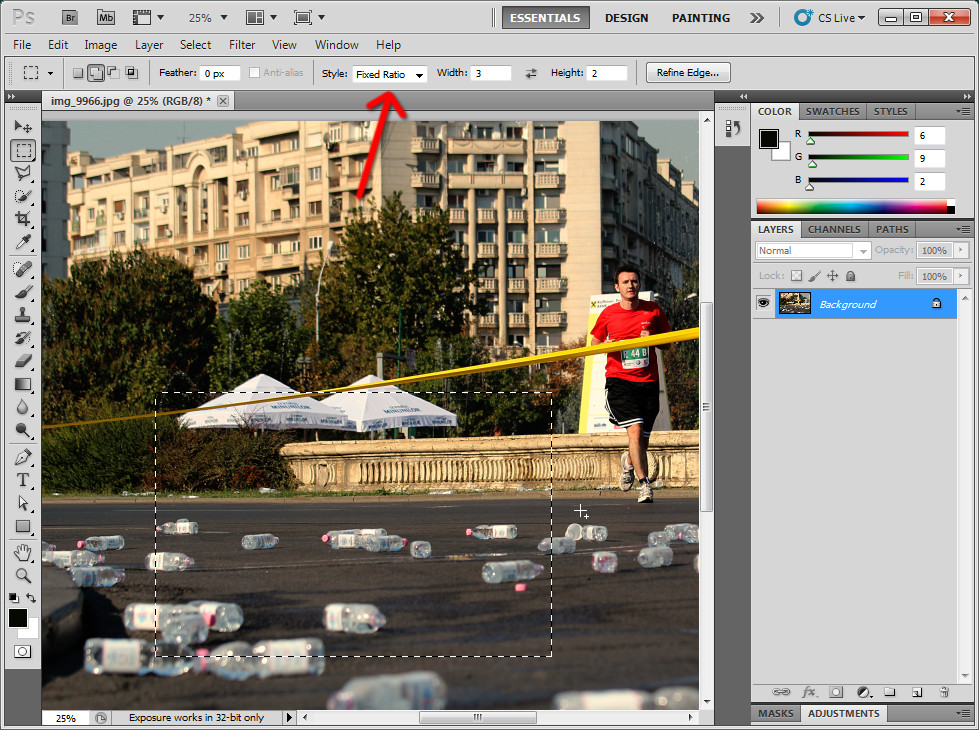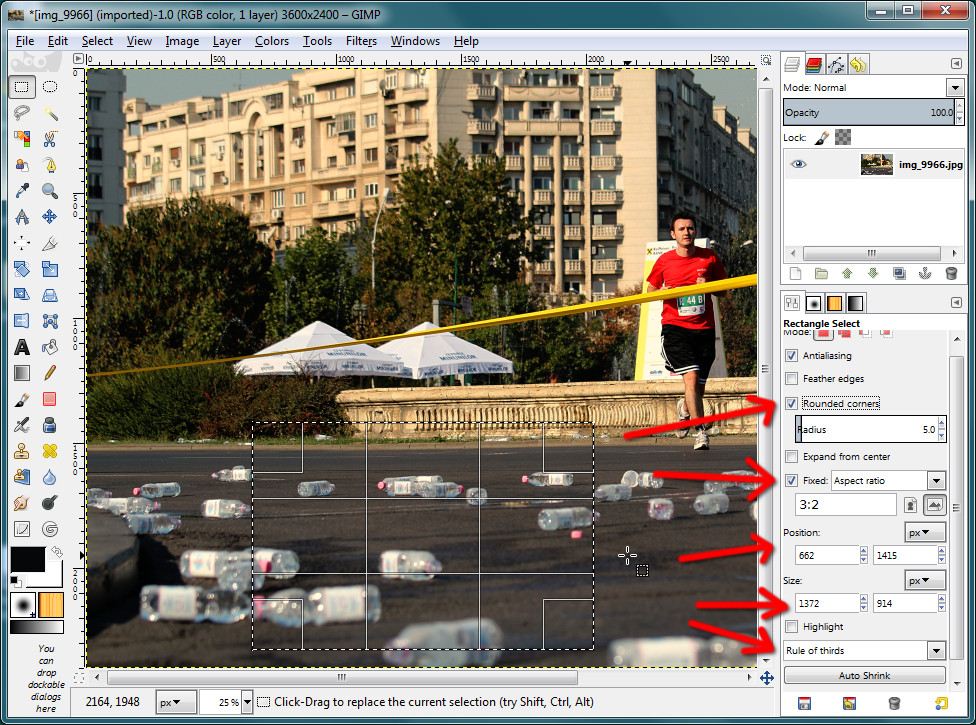 Near the top of the tools panel, there is the rectangular selection tool, which for Photoshop is very simple, with only two options: feather edges and style, which allows to specify a size or aspect ratio. GIMP provides a lot of additional useful features: compositional guides, area highlighting, precise positioning and size and even rounding corners. You can round the corners too with Photoshop, but only after the selection in a completely unintuitive menu option called "Smooth" (that's one of the functions I had to use Google instead of the UI to discover). Everything, except the rounded corners, will apply to the elliptical selections.
Lasso tool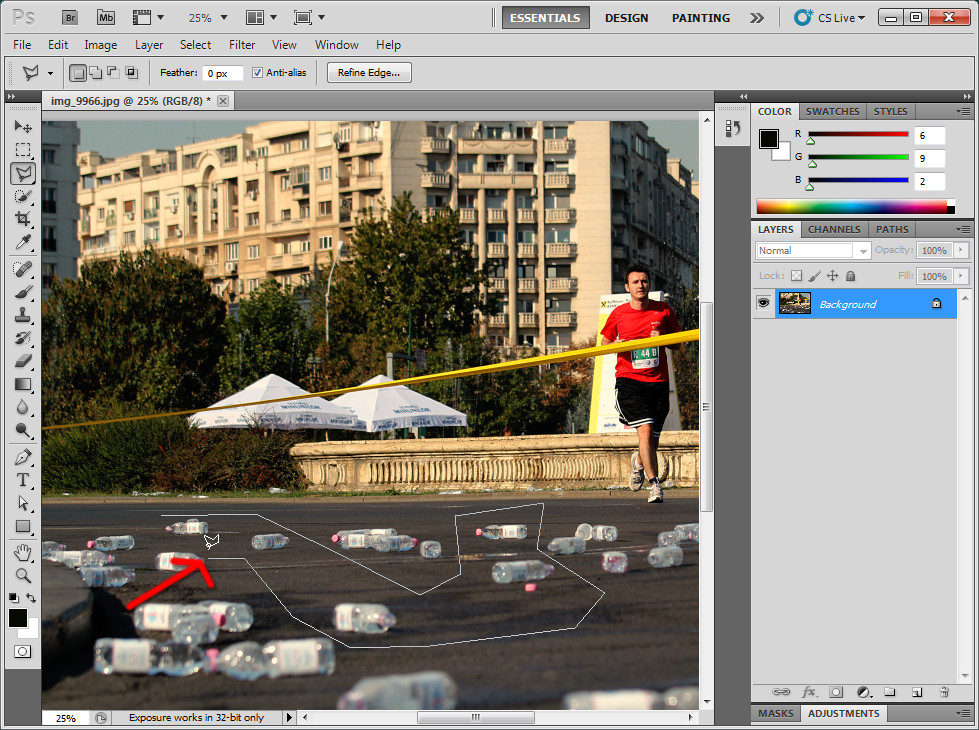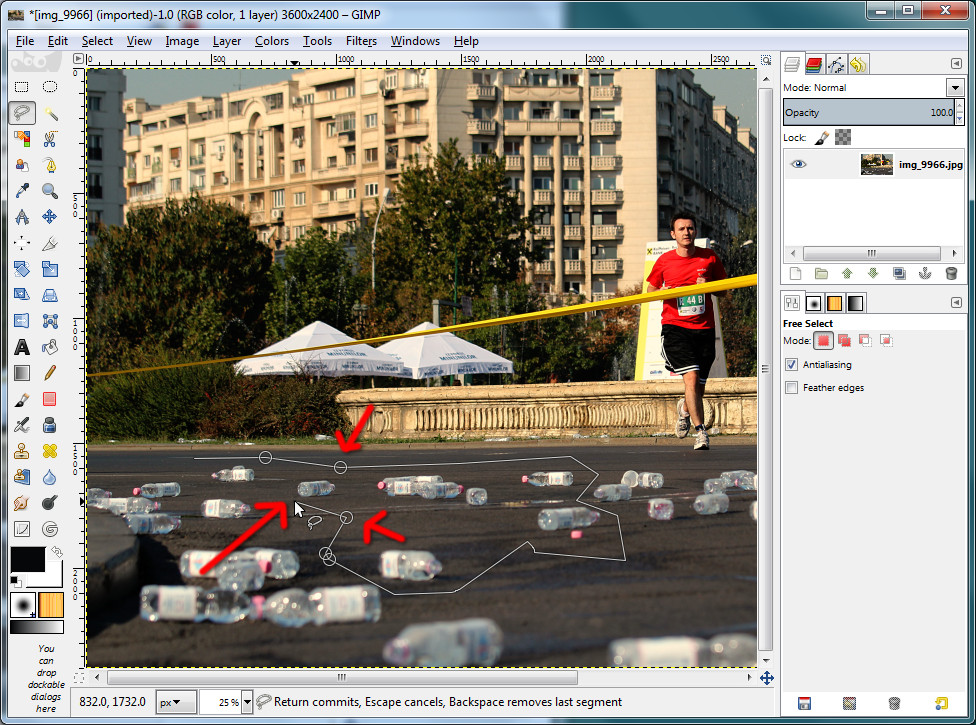 Next is the lasso tool, here the GIMP tool replaces both lasso and polygonal lasso from Photoshop. Lasso is simple, polygonal is more complex, more useful and often used. In Photoshop the tools is also simple: you click to define selection segments, if one segment was misplaced, you press Backspace and erase all segments until you get past it and then click new segments again. In GIMP is more useful: while you can Backspace and delete segments, you can also adjust previously put nodes, so deletion is not needed. Similarly, in GIMP's scissors selection tool, you can adjust previously added nodes, unlike Photoshp's magnetic lasso.
Crop tool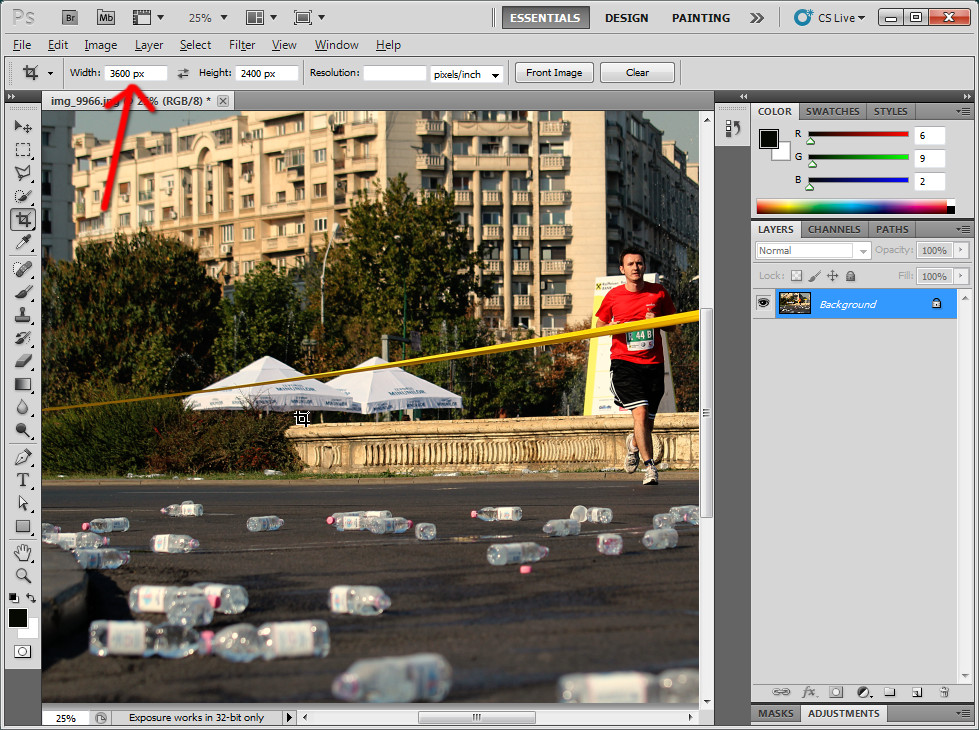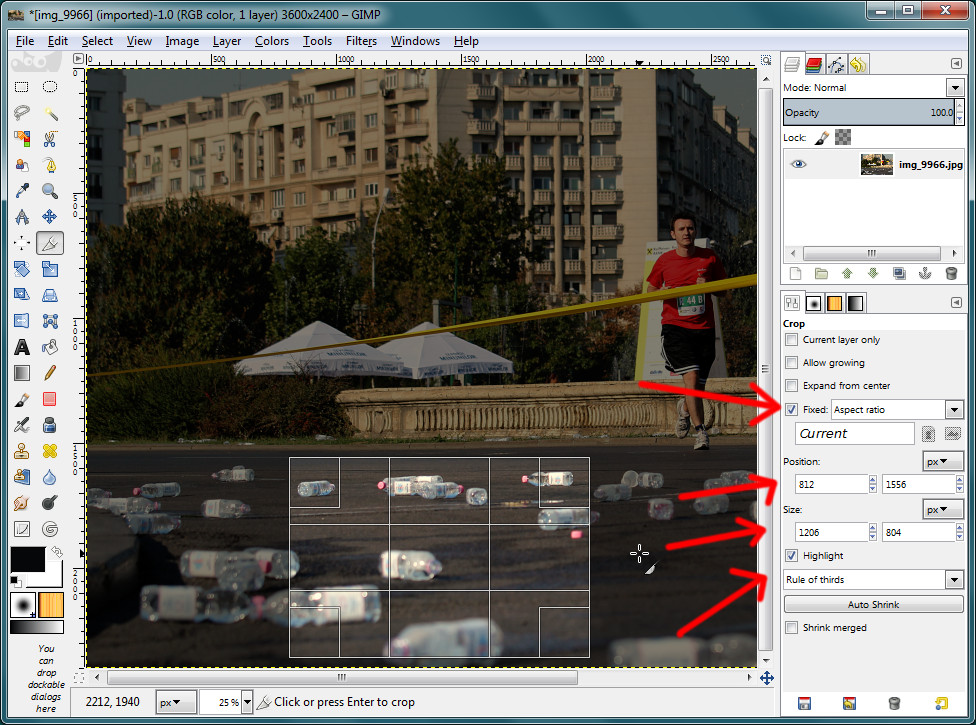 As a photographer, cropping images is my bread and butter and honestly, Photoshop's crop is subpar, the tool can't make a crop preserving the image aspect-ratio, you have to use a cumbersome way (select the entire image, resize the selection while preserving the aspect ratio and then cut to selection), while in GIMP you just check a box. At least Photoshop here can have guides here (not illustrated, since the Photoshop toolbar changes its layout while using the tool), like rule of thirds, very useful when re-framing a photo (GIMP has it, along with other features, like precise size and positioning), but don't get me started with cropping by size in Photoshop, it can destroy your picture by resizing it.
Resize canvas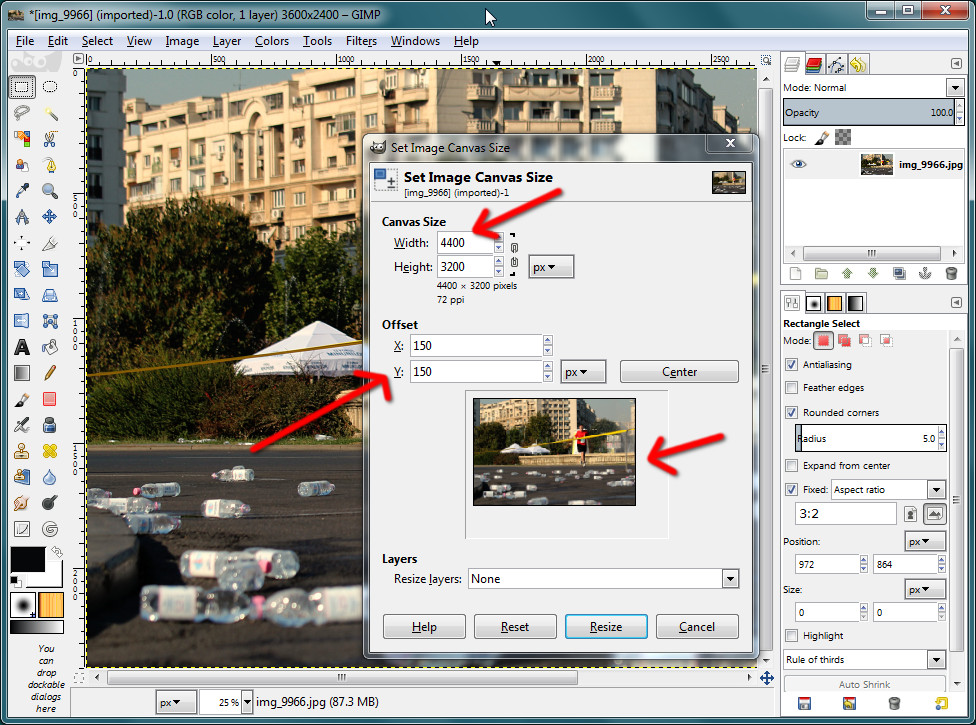 If so far I talked about tools in the Photoshop panel in their appearance order, the last item is apparently random, but it was the latest that annoyed me (the latest I encountered): resizing the canvas. A thumb up to Photoshop for having input boxes for relative size increase (you can use math operations in GIMP's size spin boxes, that's amazing for a power user, but less intuitive for a first use), but it's alignment tool is limiting, for some operations (when you want to add space to more than two sides) isn't possible to get the job done in a single step. Instead GIMP is WYSIWYG and also allows for precise positioning.
I can go on and on with things like the color curves/levels dialogs (in GIMP they will save and remember past used values, so you can apply the same settings to more than one image) or recently used filters (Photoshop can repeat the last applied filter, in addition to that GIMP will re-show the last used bunch of filters) - the more I use Photoshop, the more I find annoyances, but I hope I made my point: different isn't necessarily worse and more popular isn't necessarily better in every aspect.