A couple of days ago I wrote my impressions after the Linux Install Fest, but didn't have exact numbers to back my impressions. Now the organizers published the stats, I can see the numbers and play with them.
How successful it was? 118 people participated, 117 solved their problems, one failed (AFAIK the had the hard drive filled with 4 Windows primary partitions, not enough free space to resize any of them, no external storage to move the data out). From the 117 successful installs, 116 were on real hardware, one in a virtual machine. There is no data on how many went with a Windows/Linux dual boot, but empirically I can say a large majority.
What people wanted? From the 118 participants, 48 asked for Debian, 65 for Ubuntu, 3 for Mint and 2 for openSUSE. Other distros were available (including Fedora), but people didn't request them. Here's a graph for easy view:
What people got? A number of Debian installs failed, due to lack of drivers or other unmentioned causes, so 8 people moved to Ubuntu instead. Other user was persuaded to go from Debian to Trisquel. Final installs by distro are as this: 72 Ubuntu installs, 39 Debian installs, 3 Mint installs, 2 openSUSE installs, 1 Trisquel install, 1 failure. Graphed below: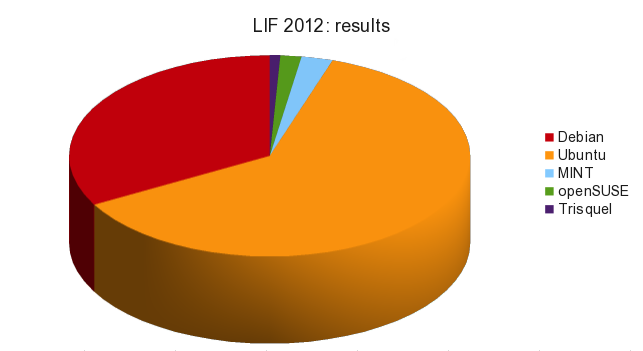 As mentioned in the previous post, the university is very Debian centric, so is expected for the students to prefer Debian or derivatives, but this is not very unlike the general usage stats in Romania.